MINExpo Highlights Massive Machines and Technology Advancements for the Mining Industry
9 min read
Updated 9/13/2021
Traditionally, MINExpo is held every four years as a means to showcase the latest cutting-edge equipment, innovations, services and technologies that can take mining operations to the next level and ensure long-term growth. After that four-year gap was extended by nearly a year due to COVID, the industry is ready and eager to move forward, coming back stronger than ever with the in-person event taking place September 13 to 15 in Las Vegas.
As the world's largest mining event, MINExpo covers the entire industry: exploration, mine development, open pit and underground mining, processing, safety, environmental improvement and more. According to show organizers, the 2021 event will fill 675,000 sq. ft. and 11 halls at the Las Vegas Convention Center.
Following is a look at what several exhibitors are exhibiting this week. For full coverage from the show floor, visit our sister site at www.oemoffhighway.com/minexpo-2021.
Caterpillar Highlights Sustainable Equipment
With the theme "Together, we're mining better," Caterpillar's 55,000-sq. ft. exhibit is hosting a range of product displays, new equipment introductions, previews of what the company envisions the future will hold and remote operating stations. New equipment models on display will include:
R1700 XE LHD Load Haul Dump: Featuring 100% battery electric propulsion that generates significantly less heat and noise, this new model offers a 16.5-ton payload, 53,330-lb. lift and tilt breakout force and 11.2-mph top speed. Fully charging it in as little as 20 minutes is the new portable Cat MEC500 Mobile Equipment Charger. 
R2900 XE LHD with diesel-electric drivetrain: Its redesigned lift arm and components deliver up to a 39% improved lift breakout force over the R2900G, making this model up to 31 tonnes per liter more fuel efficient.
D11 XC Electric Drive Dozer: Caterpillar is set to unveil what it deems as the world's largest, most powerful and efficient electric drive dozer with high drive.
D10 dozer: The D10 offers up to 4% less fuel consumption than the previous model, up to 3% more productivity with high-horsepower reverse and up to 6% more efficiency with combined load-sensing hydraulics and stator clutch torque divider.
992 Wheel Loader: Introduced earlier this year, the 992 delivers up to a 32% increase in productivity, reduces maintenance costs up to 10% and showed in-field testing of up to 48% greater payload-per-fuel efficiency in applications in a four-pass match to 100-ton trucks vs. five passes with the 992K.
In addition, the new Cat 777G Water Truck will be equipped with MineStar Command for hauling, providing a glimpse into the future for autonomously lowering dust levels at a mine site while maintaining haul road safety. 
Click here to learn more.
Epiroc to Showcase New and Enhanced Products
Epiroc is exhibitng a variety of new products, technology and concepts to increase productivity, safety, efficiency and sustainability, including:
Pit Viper 291: Debuting at MINExpo, this rig is designed to tackle larger diameter drilling in soft to medium ground conditions in both rotary and DTH drilling. It is capable of 6 3/4- to 12 1/4-in.-diameter holes with a 55-ft. clean hole single pass with the drill bit above the table. 

Epiroc

SmartROC D65 XLF: This new-generation model offers automated drilling and rod handling and is equipped with an intelligent fuel-saving system that reduces fuel consumption by 20% compared to the FlexiROC D65 drill rig. The new unit is available in three feed beam sizes to carry 5-, 6- or 8-meter pipes, and has the capacity to drill down to a depth of 56 meters.
SmartROC T45: This tophammer surface drill rig for quarrying and construction boosts productivity, reduces fuel costs and provides valuable data. The rig offers Smart options and features such as Hole Navigation System (HNS), AutoPos and ROC Manager.
Boomer M20 with Battery Option: Dubbed the worlds' first face drill rig with internal hydraulics, the Boomer M20 offers high precision and performance  with on-board automation features, tele-remote capabilities and digital drill plans which give higher reliability and quality of the full drill cycle. It comes with a battery-electric driveline option with on-board charger.
Click here to learn more.
Graco Shows Latest in Lubrication
Graco Inc. is showcasing its latest lubrication equipment technology along with related products at MINExpo. It is presenting numerous product releases, including:
the Compact Dyna-Star (CDS) Pump
G-Mini Pumps
GLC X Controller and Auto Lube app
Hose reels, meters, fluid-monitoring service equipment and more
Graco experts will present the CDS pump series, including the new 60# reservoir to provide additional lubricant-holding capacity. The CDS platform is specifically designed for heavy-duty earthmoving machines in extreme work environments. When paired with the Bluetooth-enabled GLC X controller and Auto Lube app, you can quickly and easily monitor a wide range of lubrication metrics, including levels, pressure, configurations and more.
The company will also be showcasing several new vehicle service product solutions, including the extreme-heavy-duty XDX reels and the rugged PM preset meters, as well as demonstrating the latest in fluid management technology. Pulse Pro, Pulse FC and the new Pulse Level systems are designed to simplify the way shops track and manage bulk fluids in real time, adding more transparency and accountability to drive productivity and profitability. 
IMT Debuts Articulating Cranes, CMD.CTRL and Air Compressors
Iowa Mold Tooling Co., Inc. (IMT) is announcing several new offerings, including improved mid-range and large articulating cranes with increased capacity due to higher-grade steel used in their construction. The higher-grade steel improves the machines' lift-to-weight ratio, resulting in a lower weight crane.
Enhanced models include the mid-range 1610, 1620, 1910, 1920, 2310, 2320, 2810 and 2820 cranes, alongside the large models 7020 and 9520. The 7020 replaces the 60/427 and the 9520 replaces the 80/565.
The company is also launching the CMD.CTRL and CAS80RL hydraulic-driven aluminum air compressor.
The CMD.CTRL control system will come standard with IMT Dominator mechanics trucks and combines strong, reliable hardware with flexible, intuitive software to give operators a productive, user-friendly experience. Core components include convenient cab controls, service body compartment controls and the wireless remote control system. Operators will be fully equipped to handle crane and body operation remotely. 
The IMT CAS80RL compressor provides 80 cfm of air power and up to 150 psi at almost half the weight. It is designed with an aluminum air end and canopy to reduce weight and protect against rust. Its compact footprint increases deck space on the service truck, and its sound attenuation design decreases noise levels for comfortable operation. The unit is available with mechanical gauges or a LED control panel.
Komatsu Leverages Electrification and Automation
Komatsu is using its 48,000-sq.-ft. booth to showcase its latest haulage concepts, designed to prioritize customers' desire to reduce emissions and for autonomous haulage solutions, revealing its future vision for power agnostic dump trucks and autonomous haulage retrofits for existing equipment. Komatsu will also preview future capabilities for remote operation of equipment featuring hydraulic excavators and autonomous haulage.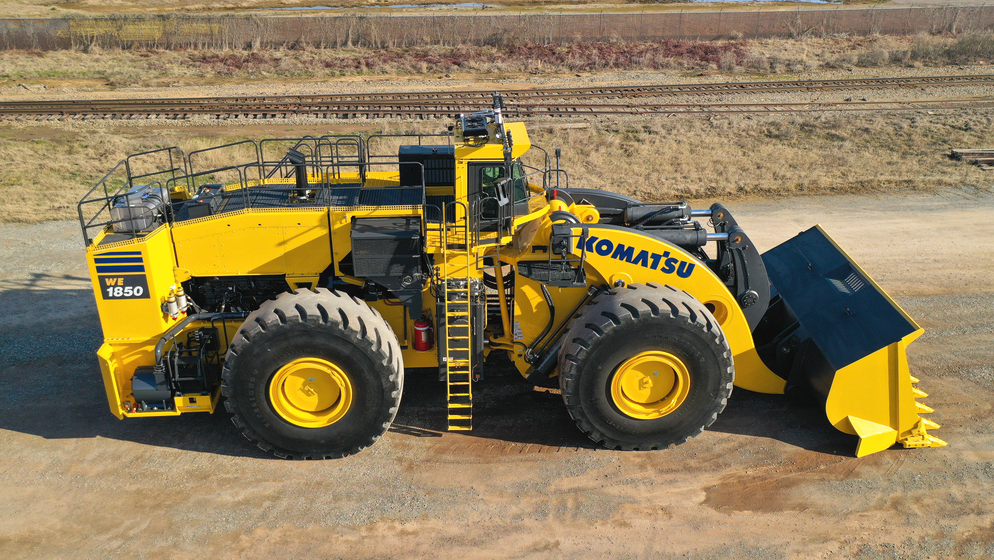 Komatsu is exhibiting an array of new equipment and technology at MINExpo.KomatsuOther new Komatsu solutions designed to advance more sustainable mining methods that are on display include:
WE1850 Gen 3 surface wheel loader with proven SR (Switched Reluctance) hybrid drive technology
ZR122 surface blasthole drill with automated features
Battery hauler for underground mining powered by lithium-ion battery technology
Battery-tram powered ZJ32Bi jumbo drill for underground hard rock mining
Underground hard rock drilling and bolting retrofits compatible with all major and most other OEMs
Click here to learn more.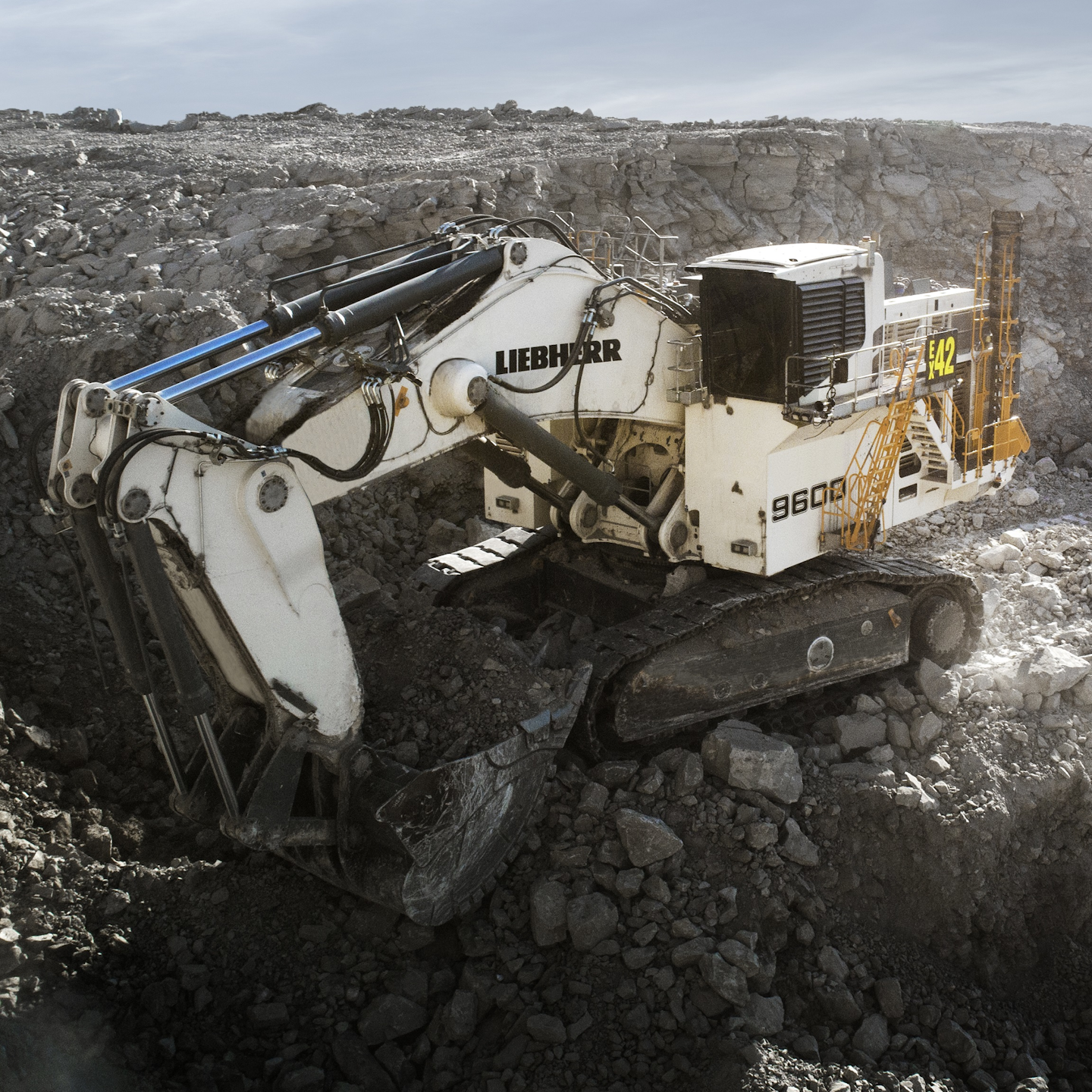 The R9600 is one of three new excavators Liebherr is debuting at MINExpo.Liebherr
Liebherr to Feature Latest Mining Innovations
Covering a total area of more than 28,000 sq. ft, the Liebherr booth is presenting advancements from the company's Mining, Mobile Cranes and Components product segments, including:
R 9150 Generation 7, R 9200 Generation 7 and brand-new R 9600 Generation 8 Excavators: All three excavators are now equipped with the latest innovations including Liebherr Power Efficiency, Assistance Systems, and Bucket Filling Assistant. Assistance Systems will be presented physically in the R 9600's cabin and on tablets displayed on the booth.
T 274 Haul Truck: This true 336-ton machine provides fast cycle times, higher production rates, low fuel consumption and a low cost per ton. A range of options are available including the Trolley Assist System and Autonomy Kit.
PR 776 Mining Dozer with LiReCon Teleoperation System: The 77-ton dozer will be displayed with the new LiReCon (Liebherr Remote Control) teleoperation system, designed to provide additional comfort and safety for operators in tough mining applications.
LRT 1090-2.1 Rough-terrain Crane: The 100-ton crane features a 154-ft. telescopic boom that can be extended easily with two telescoping modes: strong or long. It is fitted as standard with an outrigger monitor which automatically detects the support status and includes the crane control system. It is also delivered as standard with the VarioBase variable support base.
Click here to learn more.
Magni Exhibits for the First Time
Magni Telescopic Handlers is exhibiting its fixed boom, rotating and heavy lift telehandlers at MINExpo for the first time. It will highlight how the  telehandlers can help mines increase profits and create safer working environments.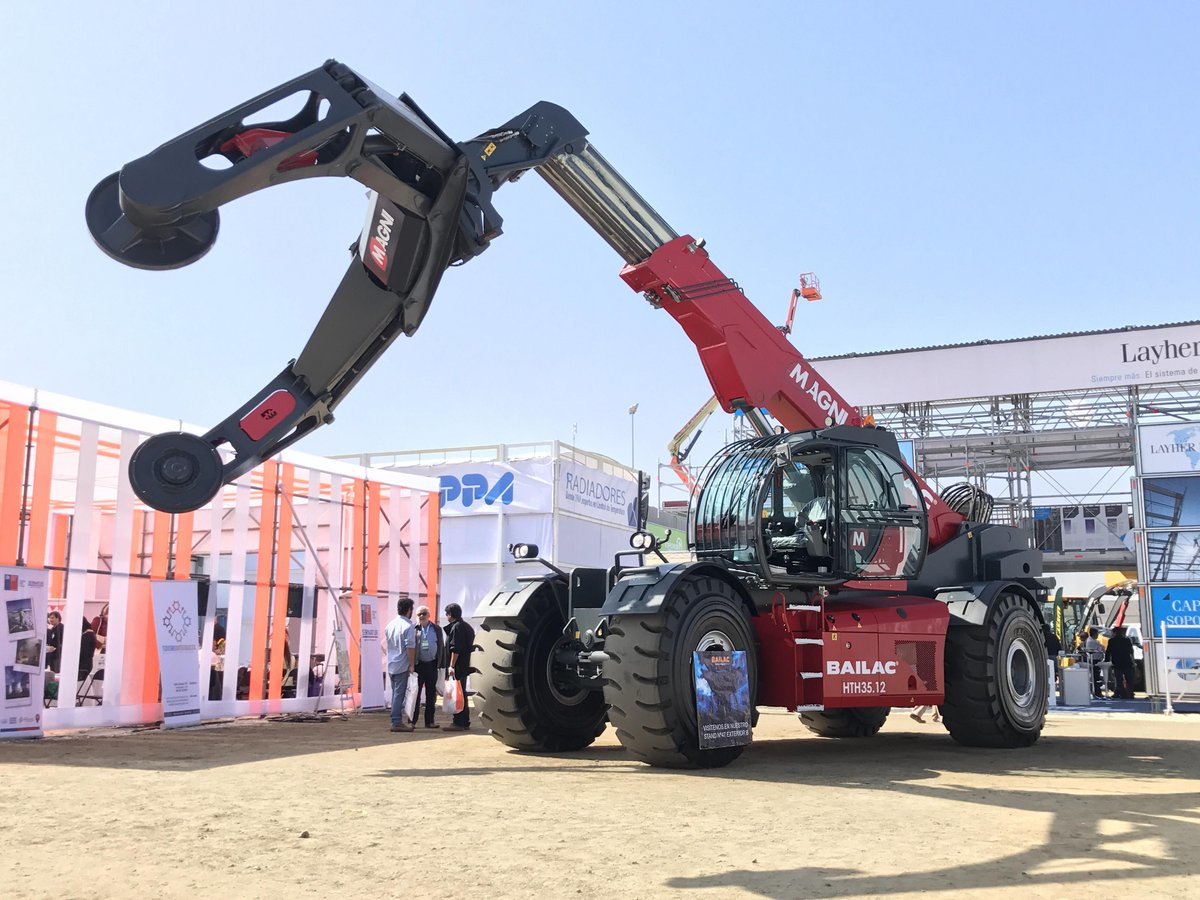 Magni will showcase how its telehandlers can be used in mining applications.MagniMagni will feature:
Rotating Telescopic Handlers (RTH): The rotators feature 360° rotation, serve as several machines in one and can be equipped with various accessories such as forks, winches, platforms, and many specialty attachments. Users benefit particularly from the that helps them increase production speed. The line includes  offers 16 models with lifting capacities from 8,800 to 28,600 lbs. and lifting heights from 58 to 167 ft.
Fixed-boom Telehandlers: Heavy Lift models have attachments purpose-built for mines, including forks, tire handlers, cylinder handlers and conveyor belt attachments. They offer lifting capacities from 11,000 – 110,000 lbs.
Magni to Launch Mining Telehandler at MINExpo 2021
All models have a patented load control system that detects the risks of overload during use and prevents further movements helping create a safer working environment in mines. 
Click here to learn more.
Petro-Canada Mining Equipment Fluids and Greases Featured
HollyFrontier Lubricants & Specialties is  exhibiting its range of Petro-Canada Lubricants fluids and grease. The HollyFrontier division will be showcasing its complete llineup, including Petro-Canada Lubricants DURON heavy-duty engine oils, HYDREX hydraulic fluids and PRODURO transmission drivetrain oils.
Also showcased at MINExpo is the PEERLESS 3 Moly 322 grease, which is formulated for the protection of low speed, severe heavy-duty applications where high temperatures and heavy loads are common and wear protection is critical.
In addition, information will be available on the GREASE-N-GO automatic lubricator, designed to provide consistent protection for equipment. 
Click here to learn more.
Trimble Focuses on Safety, Productivity and Efficiency
Trimble is presenting a range of mining solutions to improve safety, productivity, and efficiency and to put mining operations on the path to autonomy. Specifically, show visitors can learn about:
Trimble Insight: Designed to provide greater visibility of fleet inefficiency or downtime for quarry and mine managers, Trimble Insight draws data from LOADRITE loader, excavator, haul truck and conveyor belt sensors to provide easy to read dashboards, monitor alerts and productivity data to help operators make better business decisions. 

Trimble

Trimble LOADRITE payload and productivity management solutions: These solutions use onboard scales to help monitor and improve load and haul, processing and load out operations. Key solutions at MINExpo will include 

Smart Haul

 load and haul tracking software and 

LOADRITE L3180 Smartscales

 for wheel loaders       . 
Trimble Autonomy: The company has partnered with ROBORACE to display Robocar autonomous car racing. The same positioning technology helping the Robocar maintain precise in-lane positioning at speeds up to 175.49 mph is powering haul trucks for positioning and orientation in mining operations using the Applanix Position and Orientation System (POS) LVX GNSS-inertial system. Trimble will also be featuring smart antennas and inertial sensors that provide a high-accuracy, continuous solution for precision GNSS.
Wirtgen Surface Miner Makes North American Debut
The Wirtgen 220 SM/220 SMi surface miner is among the products exhibited by the company at MINExpo 2021. Introduced at bauma 2019, this marks the North American debut of the machine.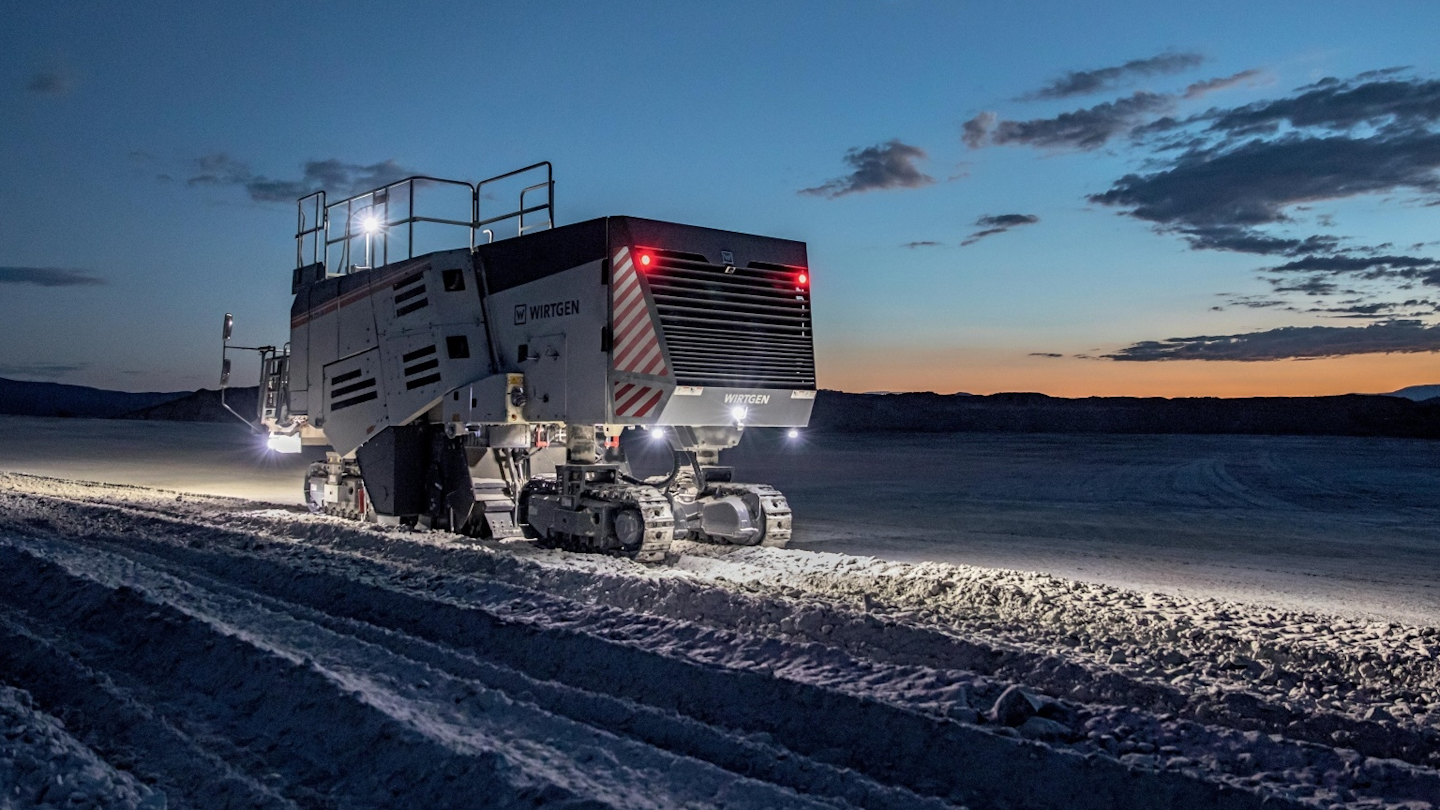 The Wirtgen 220 SM/220 SMi surface miner features a compact design for easy transport and maneuverability.WirtgenThe surface miner features an EU Stage V/U.S. EPA Tier 4 Final engine offering power up to 950 hp. It is suited for use in small- and medium-scale mining operations as well as routing work and infrastructure projects. 
According to the company, the compact and multipurpose machine is capable of extracting resources with an unconfined compressive strength of up to 50 MPa selectively and at a cutting depth of up to 11.8 in. A 7-ft. 3-in.-wide cutting drum unit is tailored to the specific application and guarantees high productivity at low operating costs. The high, narrow sides of the holder base ensure that material flows smoothly and energy consumption is kept to a minimum. This results in reduced wear and tear on the housing, holders, point-attack cutting tools, and scraper blade, even when mining hard, abrasive material.